Body Painter Covers People's Skins in Hyperrealistic Depictions of Animals
Click here to view original web page at www.complex.com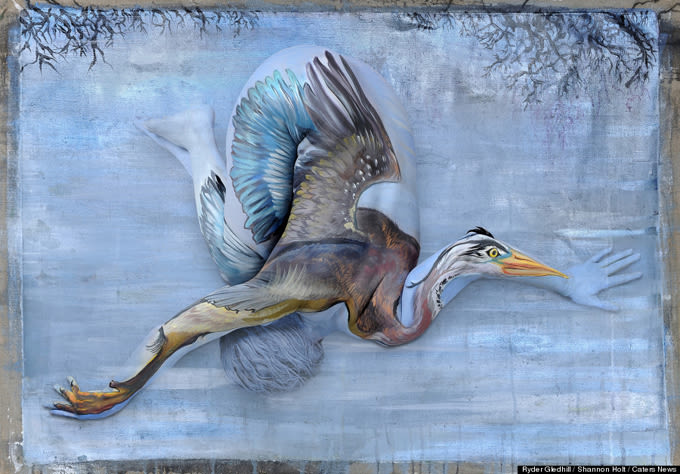 Image via Caters News
Artist and body painter Shannon Holt's stunning new series, "Florida Wildlife," features realistic portraits of animals painstakingly painted on human figures. Historically, body painting has be used to celebrate, terrify, and even to create visual illusions, but recently artists have taken full advantage of the emerging fine art status of the practice. Like some of her peers, Holt is renowned for her mastery of the genre and her skillful use of color. She spends over 12 hours on each piece before photographing the work.
Holt, who has a background in fine art and painting, first tried her hand at body painting in 2008 when she was searching for new materials to work with. Since then she has painted festival patrons, was on a body painting competition show, and painted at a nudist resort. In an interview withDaytona Beach News-Journal in May, Holt stated, "My body painting is ephemeral, that is the beautiful part about it," which is what draws her to the form. Unlike many artists who would shy away from the at the idea of their work being washed away, Holt said, "It's kind of like ourselves—we're here on the Earth and then we're gone, and it's beautiful."
Holt does her body painting in photographer Ryder Gledhill's studio, and Gledhill exclusively photographs her body art. She also accepts custom commissions.