Lara Hawker, NZ body painter
Click here to view original web page at www.nzherald.co.nz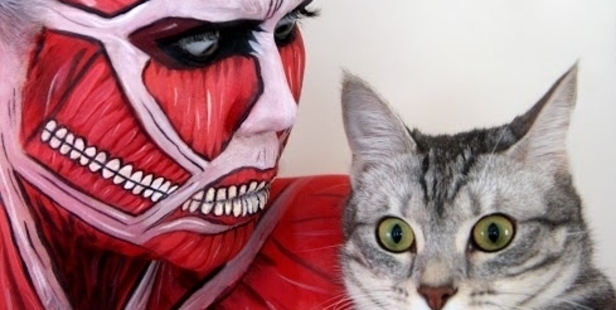 A young Wanganui make-up artist is hoping locals will help her realise her dreams.
Lara Hawker, 20, is currently living in Auckland where she is studying production design and sculpting at the Cut Above Academy.
Miss Hawker is a special effects make-up artist, and is hoping to travel to Austria this year to represent New Zealand at the World Bodypainting Championships.
It all began for Miss Hawker at the tender age of 14, when she was hired on a part-time basis as a face painter by Wanganui balloon decor and face painting company, Airagami.
"I started off doing that and just got more and more into it," Miss Hawker said.
Her aim is to get into working on special effects for film and television, which she said is a rapidly growing area in New Zealand.
She'd also like to teach one day.
But getting a foot in the door is the most difficult part.
"If I win a world title, that really looks good for me for any future employers."
Miss Hawker plans to compete in the special effects and face painting categories at the World Championships, which will be held in early July.
But her World Championship dream comes at a cost - she is hoping to raise $5000 for her trip to the three-day championships, which she estimates will cover only part of her costs.
"That doesn't cover the cost of supplies - you need a lot of materials.
"There's also a week of workshops before the World Champs, and I would really like to go to that as well."
Miss Hawker has set up an account for people to make donations to help her get to Austria. Go to https://life.indiegogo.com and search for "get a Kiwi to the world bodypainting champs".
By anne-marie.mcdonald@wanganuichronicle.co.nz