Naked bugging out on this week's
Click here to view original web page at observationdeck.io9.com
67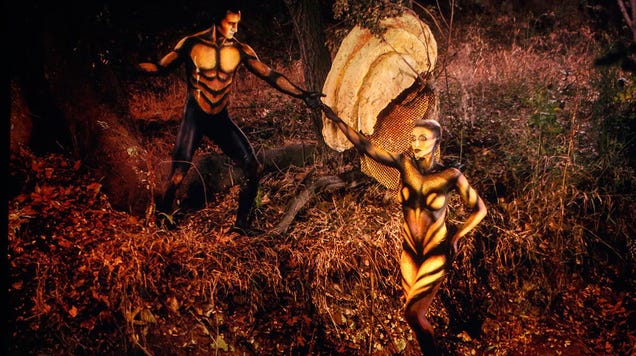 This week the ten remaining contestants must design an insect queen and a companion character. The challenge is body painting naked models, which is outside the comfort zone of some of the contestants. Images are all safe enough to show on US television but may be NSFW. Results ahead.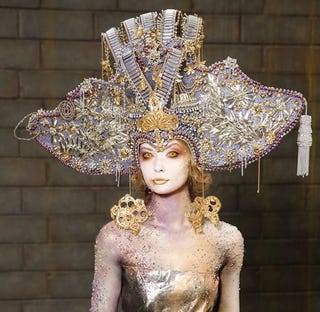 The week begins with a Foundation Challenge to choose a hat and make a character to go with it. Last season's judge Lois Burwell returns to select the winner. Emily puts a lot of effort into her design built around a large glittery headpiece and wins immunity for the week. The Foundation Challenge designs are worth checking out and can be found here.
For the Spotlight Challenge the contestants are taken to the woods. They pair off and are presented their challenge. The contestants initially assume they will be doing the usual sculpting and molding work in the lab until McKenzie throws this week's twist at them. The challenge will be to paint their queen and companion in the outdoor setting. Instead of three days to work the contestants have the rest of the day to have their designs ready to be photographed. The judges will make their decisions based on the photos.
Many of the contestants lack experience in body painting. Even with Season Two contestant Nix Herrera and the coaches on hand to give advice they are struggling to get everything done in time. The contestants get to talk to the photographer before the shoot but they won't see the actual photos of their models until the same time as the judges.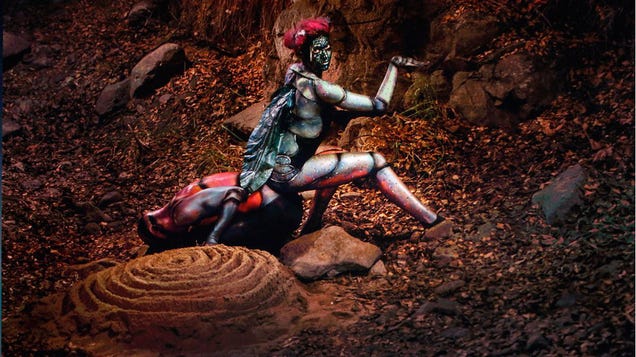 Emily and Jamie create two Honey Bees (top image) that is one of the top looks along with Logan and Julian's Cocoon Wasp (above) which manages to look like one insectoid creature. Logan ends up winning the challenge that he called his worst nightmare.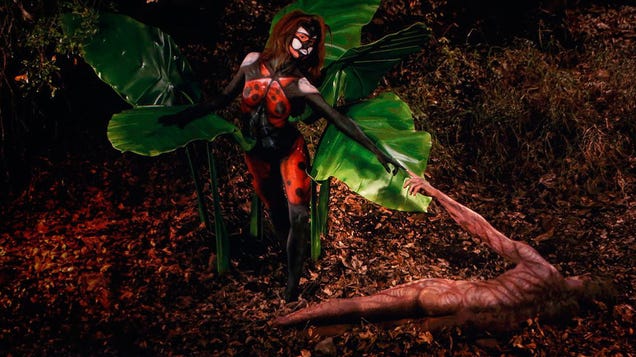 Kelly and Ben don't work well together as a team with each doing their own thing on their European Hornet. They end up in the bottom looks along with Adam and Rob's Ladybug (above). Ve in particular can't get past the Ladybug queen's face painting calling it "a little kid's painting at a county fair." Rob ends up going home.
Team Rayce wins the challenge but also loses a team member, leaving just Adam and Logan.
This was a difficult challenge and I liked seeing who could successfully work outside their comfort zone.
You can see galleries of this week's designs, past works of the champions and previous seasons here.