From cosmic adventure to RAGBRAI readiness body paintings
Click here to view original web page at www.qconline.com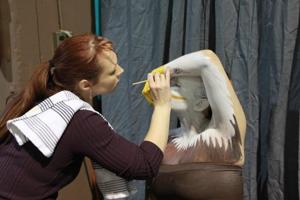 The interactive exhibit "Alien Worlds and Androids" opens Saturday, and features content from the Jet Propulsion Laboratory (JPL) and NASA, according to a news release from the museum.
At the exhibit, visitors can join scientists in their search for alien life in and around our solar system; discover strange, alien-like creatures here on Earth; and learn about the technologies used to explore remote solar systems and extreme environments found on Earth.
Life-sized characters including Iron Man and C3PO will help visitors explore how science fiction icons have inspired many of these discoveries, and how scientific and technological advances are becoming more and more possible.
Adventure packages for non-members, including admission to all museum exhibits as well as the science center, are $14.50 for adults; $12.50 for seniors, students and military, and $11 for children.
Ultimate explorers packages for non-members, which include a ticket to "Journey to Space 3-D" on the Putnam's Giant Screen Theater, are $19 for adults; $17 for seniors, students and military, and $15.50 for children.
Tickets are free for children younger than 3.
For more information and showtimes, call 563-324-1933, or visit putnam.org.
Take flight with conclusion of "Angels"
Two months after unfurling the first half of Tony Kushner's acclaimed seven-hour drama, "Angels in America," The District Theatre opens Part II, "Perestroika," on Friday.
" 'Angels in America' is an epic tale and one of the finest theatrical works of our time," District Theatre artistic director Tristan Tapscott said. "Kushner writes about catastrophe within communities in the '80s, but it doesn't take much work to connect these stories to our own lives."
The second half of the Pulitzer- and Tony-winning story steers the characters introduced in "Millennium Approaches" from the opportunistic 1980s to a new sense of community in the '90s as the AIDS plague worsens, relationships fall apart, and unexpected friendships take form.
There will be additional performances Saturday and Sunday. Tickets are $20.
Get hitched to Bucktown's Final Friday
Wedded bliss is in store for tomorrow at the engaging Final Friday at Bucktown Center for the Arts in Davenport.
From 6 to 9 p.m., an artistic slant on a wedding theme will be found in the artists' studios and galleries. Centerpieces designed by Bucktown's Felicia Southward will offer ideas for unusual approaches that incorporate art. Body painter Kimberly Miller of Celestial by Design will be on hand to create a tasteful transformation in glitter and color.
Artist and media expert Alan Campbell can show how to video on your phone an upcoming practice or renewal of wedding vows. Children can create ribbon Valentines. Elsewhere, you can sample sweets by Chocolate Manor, ogle several vintage wedding dresses from Abernathy's and other treasured and artist-designed wedding outfits, and see the debut of a new Bucktown bridal registry for original art.
What's not to love?
Fight the flu, land a job, or both!
It's going to be a bustling day at Modern Woodmen Park Saturday! The Quad Cities River Bandits and Genesis Health System are teaming up for a community event that will include free flu vaccines as well as a job fair -- talk about a unique event.
The community day gets underway at 9 a.m. and goes until noon. Offerings from Genesis will include free blood pressure checks, athletic interventions to prevent injury, and 500 free flu vaccinations.
The River Bandits, meanwhile, will hold tryouts for National Anthem singers and pre-game performers, while Main Street Amusements and Professional Sports Catering will be recruiting hard-working individuals for jobs selling food and beverages during the 2015 season.
The event is free. For more information, call 563-324-3000 or visit riverbandits.com.
Gear up for RAGBRAI
If you're a bicyclist who has never tackled the Iowa-wide bike tour RAGBRAI but you're interested in learning more, pedal down to the upcoming RAGBRAI for Rookies session Saturday at the Fairmount branch (3000 N. Fairmount St.) of the Davenport Public Library.
A formal presentation by the the Quad Cities Bicycle Club to give an overall view of the event will begin at 1 p.m., followed by an a drop-in open house through 4 p.m. According to a news release, attendees will garner personal advice from those who have "been there, done that," as well as learn how to apply, train, pack and more.
This year's ride will run July 19 through 25, and will begin in Sioux City and end in Davenport.
For more information, visit qcbc.org or call 563-343-9118.
Mallards look to tame the beast
Friends of the fowl and foes of the feral will flock to Moline's iWireless Center on Saturday to see the Quad City Mallards take on the Brampton Beast.
Meanwhile, on the ice, the Mallards will wear six throwback jerseys to be auctioned off as part of the top fundraising event of the season. Proceeds benefit the Genesis Health System Foundation.
It all gets underway at 7:05 p.m. Tickets range from $10 to $28 and can be purchased by calling 800-745-3000 or by going online to myqcmallards.com.
These are just some of the great things to do in the area this weekend. For more fun ideas, visit qconline.com/calendar.